How to Organize a Play Date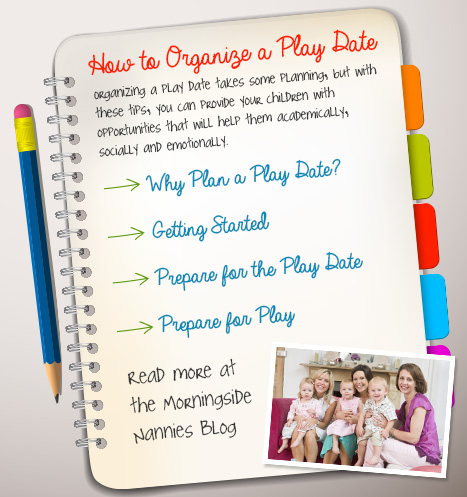 The kids are restless, you could use some time conversing with adults and the schedule is free for the day. Why not organize a play date?
Organizing a play date takes some planning, but with these tips, you can provide your children with opportunities that will help them academically, socially and emotionally.
Why Plan a Play Date?
Providing the children you care for with opportunities to socialize and play with others is an important step in their social development. Your children also benefit from learning how to share and communicate with others.
Preschoolers, especially, have a lot of energy, and need ways to exert this energy in positive ways. According to the experts at Nemours KidsHealth, preschoolers are also discovering what it means to play with a friend instead of just alongside another child.
"By being around other kids, a preschooler gains important social skills, such as sharing and taking turns," said the childcare experts at KidsHealth. "Despite occasional conflicts, preschoolers learn to cooperate and interact during play."
Getting Started
The best place to begin is by assessing your invite list. Gather names of parents or nannies in the neighborhood or talk with adults at your child's preschool to gather interest in a play date.
Once you have a guest list prepared, inquire about times and dates that will be convenient for the children and their nannies or parents. It is also important to work around your family's schedule since you don't want to host a play date when your employers have engagements in the home. Assess your own schedule, too, to make sure that you schedule the play date during a time when the children will not be napping, hungry or cranky.
Prepare for the Play Date
Preparation is key when it comes to hosting a play date. Michelle LaRowe, executive director of Morningside Nannies and author of "A Mom's Ultimate Book of Lists," recommends putting away any special toys your child is unwilling to share. "Putting these prized possessions away during playdates can head off potential sharing problems," she says.
Prepare for snack time, too, by setting up healthy options, such as fruits, veggies and snack crackers. Juice boxes or cups with lids will help prevent spills. Snack time is a great way to break up the play date when children are getting restless.
When scheduling a play date, make sure, too, that you set a time limit. Instead of leaving the play date open ended, let your guests know that it will begin at a certain time and end on time. Two hours is typically the norm for play dates – this also works well for a late morning or late afternoon gathering so children can keep their daily routines and nap times.
Prepare for Play
A structured setting works best for a play date. LaRowe recommends setting up different stations with activities. For example, one station could focus on kitchen play, one for blocks and one for animated games or art projects. Ask your fellow nannies or parents to help facilitate each station to ensure the activities go as planned.
Interactive games also work well to provide a structured setting. The experts at KidsHealth recommend the following activities:
Play bounce catch
Use paper airplanes to practice throwing
Balance a beanbag while walking
Play freeze dance
Play wheelbarrow by holding your child's legs while he or she walks forward on hands
Creating a theme for your play date will keep the children engaged, too.
Potential play date themes can include:
ABC's  – Ask each child to bring a memento or toy that begins with a pre-assigned letter
Space Exhibition – Offer activities and games that revolve around the planets, including art projects or impromptu plays
Birthday Fun – Throw a birthday party for all of the children, complete with party hats, cake and games
Farm Fun – Ask each child to bring a drawing, picture or toy that represents his or her favorite animal and have sharing time during the play date
When creating a theme for your play date, pull out toys that represent the theme or print off coloring pages from the Internet so they can leave with a piece of art that will leave a lasting impression of their time together.
Most importantly, allow the children to socialize naturally, sit back and converse with the other nannies and parents and resist the urge to mediate any disagreements at first. Allowing children to work out their differences in a play setting is a valuable learning experience.
← Sight Seeing at its Best: A Guide to Houston's Museums | 10 Houston Parks Your Kids Will Love →
Comments are closed.