My Gym Comes to The Woodlands

For Houston area parents and caregivers looking for a fun place to take the kids, they'll be thrilled to learn that My Gym is coming to The Woodlands. With its grand opening coming up on February 28, 2013, it's sure to be a new spot Houston area families will come to love.
Lead by Miss Shannon and her husband Coach Karl, My Gym The Woodlands will offer classes to children ages 6 weeks to 13 years of age. The structured, age-appropriate classes will incorporate music, dance, relays, games, special rides, gymnastics, sports and more. In addition to having structured classes, My Gym offers "Practice and Play," an open gym type program that enrolled members can attend at no additional cost.
With the goal of keeping fitness fun, My Gym The Woodlands will strive to reverse the obesity trend in children by empowering them to acquire the skills, confidence and positive self-image needed to become healthy young adults.  With a nurturing atmosphere coupled with positive reinforcement, children will learn physical, social and life skills as they exercise and have fun.
Miss Shannon and Coach Karl are no strangers to My Gym. Prior to bringing My Gym to The Woodlands, Miss Shannon worked at a My Gym in Aventura, Florida for five years, where she was a two time My Gym Director of the Year award recipient. After helping open a My Gym in Louisville, Kentucky, Shannon and Karl decided it was time to have their own location, and thus My Gym The Woodlands was born.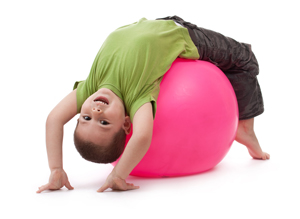 With degrees in exercise science, Miss Shannon and Coach Karl have the necessary background to help children gain strength, balance, coordination, agility and flexibility as they develop confidence and self-esteem. They're also passionate about providing children with a rich weekly experience that gives children the opportunity to discover more about themselves as they develop independence, self-discipline and social skills, all which help increase a child's sense of self-worth.
Over the past 30 years, My Gym has established itself as the leader in the childhood fitness industry, boasting more than 270 locations in over 30 countries. With its state-of-the-art facility, extensively trained staff, award-winning class programs, and excellent student to teacher ratio, My Gym has earned the reputation as being the best early learning program of its kind.
Families are always invited to experience a complimentary class at My Gym The Woodlands. Visit the My Gym The Woodlands website for class schedules and descriptions.
My Gym The Woodlands, TX
525 Sawdust Rd Suite 109
The Woodlands, TX 77380
281-645-6330
https://www.mygym.com/thewoodlands
← 10 Must Try Restaurants in Houston | Our Open House Was a Success! →
Comments are closed.