Playground Safety Tips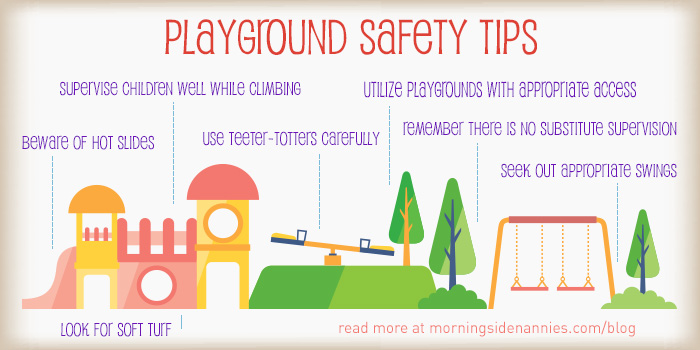 Playgrounds are a great place to take your child for active, social fun. However, they are also a hotbed for injuries. According to the National Safety Council, "Each year more than 200,000 children visit hospital emergency rooms because of playground injuries." What can you do to prevent your child from being hurt while on the playground?
1. Look For Soft Turf
Make sure that the playground has a soft surface in case of falls. Children falling off play equipment and swings often are injured if playing on a hard surface. Most playgrounds now have soft surfaces such as mulch or rubber mats. Inspect the surfaces and make sure they are properly maintained and are large enough to handle any kind of fall.
2. Seek Out Appropriate Swings
Soft swings should be far enough apart from each other and from the play equipment to assure children will not hit anything while swinging. Bucket seats should be used for younger children and all children should be closely supervised while swinging to make sure they don't jump out, let go, or try to stop too quickly and possibly injure themselves. Children should not go close to the swings while in use either.
3. Beware of Hot Slides
During the summer, metal and even plastic slides can become very hot. Make sure you touch the slide to make sure it is not too hot for your child. Children should always sit when sliding and loose clothing should not be worn as it can get caught and poses a choking hazard.
4. Use Teeter-totters Carefully
Although many parks no longer have teeter-totters due to safety concerns, there are some variations that are safe for children to use. Spring driven teeter-totters are great for younger kids, while traditional ones are good for older kids as long as they have a tire or other soft surface to keep the seat from hitting the ground.
5. Supervise Children Well While Climbing
The National Safety Council says, "Forty percent of all playground injuries are related to climbing equipment. More children are injured falling off climbing equipment or horizontal ladders than anything else on the playground. Children under 4 shouldn't play on this equipment." Older children should be closely supervised while climbing and all climbing equipment should be examined for safety before use.
6. Utilize Playgrounds with Appropriate Access
For children with disabilities, many newer parks offer accessible fun for them as well. Make sure the paths are sturdy and slip free for wheelchairs and that all accessible areas are well maintained for safety. Keep in mind your child's limitations and health needs and make sure you supervise play closely.
7. Remember There is No Substitute Supervision
All children should be closely supervised while at the playground. Not only for reasons of injury, but also because playgrounds are a public area and are open to all. Not everyone at the park is a parent or caregiver. Make sure your child stays in sight at all times. If older children wish to visit the park with friends, make sure there is at least one adult there to supervise.
Going to the playground should be a fun adventure, not a painful memory. Make sure your local playground is safe for children. If you have issues or questions, contact the owners or the Consumer Product Safety Commission.
← The Best Kid-Friendly Country Clubs in Houston | Do You Know Your Market Value? →
Comments are closed.